About
How Tameside, Blackpool, Manchester, Sussex and Brighton are building advanced digital infrastructure
to transform services and serve the local economy using a co-operative model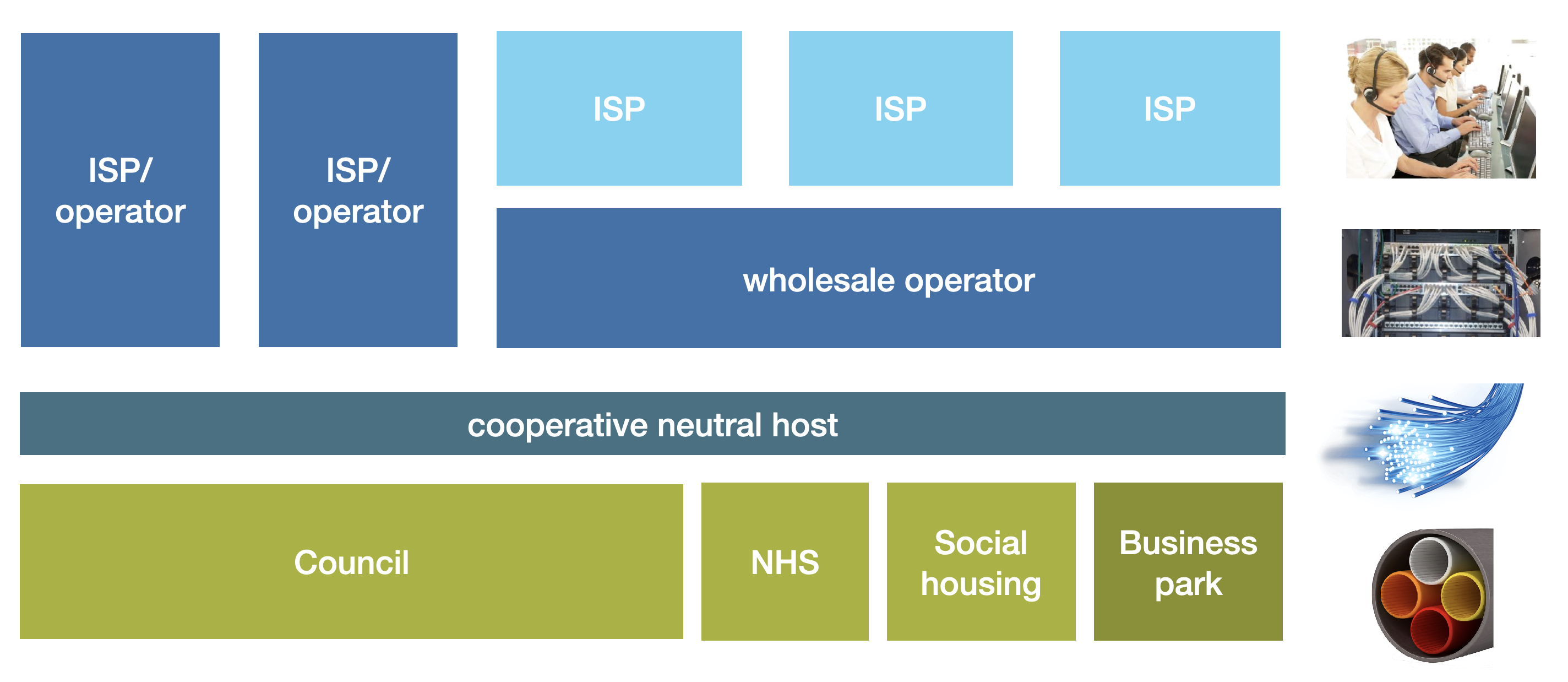 Tameside MBC started working with partner organisations in 2016 to build a new, advanced digital infrastructure using a unique cooperative model to share access and collaborate - with benefits for public sector, businesses and citizens. Now the model has spread across the country with six other local authorities actively involved. CNI is the vehicle for that model.
The cooperative neutral host ('thin layer') model facilitates rapid deployment of new, full-fibre infrastructure, while avoiding some of the complications and downsides associated with other public sector demand aggregation, leveraged and co-investment models.
The thin layer model is pragmatic and 'agile'. Now the 6 local authorities (Tameside, Blackpool, Manchester, Mid Sussex, West Sussex and Brighton and Hove), work with public and private sector partners invest in new infrastructure assets where a business case can be made to meet needs. Then those assets are sewn together to form a coherent, integrated infrastructure that can be shared using a co-operative. In general the business case for each investment stands alone. By linking assets together into a shared network, the business case is multiplied.
In its pioneering work Tameside MBC worked with public sector partners including Tameside Hospital, the Pennine Care NHS trust, Tameside College and New Charter - the principal RSL. Following consultations, including a successful soft market test and detailed state aid advice, Tameside extended the model to include private sector partners, all of whom then formed the cooperative - Cooperative Network Infrastructure (formerly Tameside Digital Infrastructure Cooperative).
In 2017 DCMS and BDUK nominated Tameside to be one of six pilot 'Wave 1' projects in its £200m Local Full Fibre Network Programme. Blackpool and Mid Sussex received over £5m funding in Wave 2 using the same model.
Read the full Tameside and Manchester case study here